Clean Protein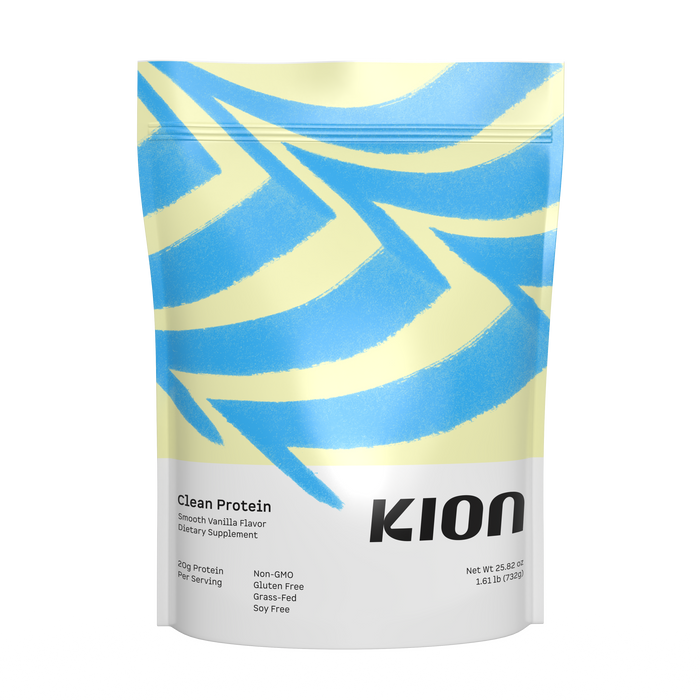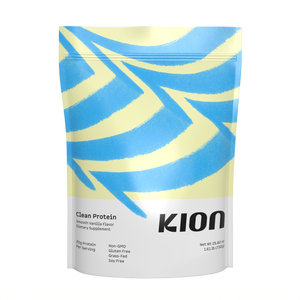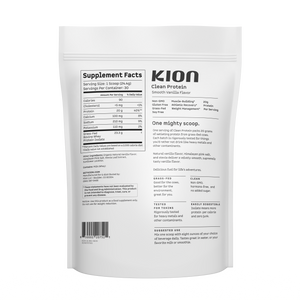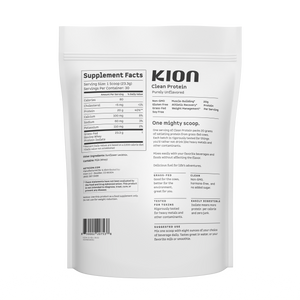 Clean Protein
Premium, grass-fed, whey protein isolate powder for powerful muscle growth and serious recovery.
Premium whey isolate
Grass-fed, pasture-raised
Organic natural flavors

Rich, Velvety Protein for Unshakeable Performance
Protein is essential for muscle growth, metabolism, sleep, immune function, brain health, and more—and most people aren't getting enough.
You deserve a clean, delicious, high-protein powder that'll build your best body from the inside out.
Introducing Kion Clean Protein. The cream of the crop of whey proteins.
Clean Protein delivers an easy-to-absorb complete protein that's:
Made with superior quality whey protein isolate
From grass-fed, pasture-raised cows
Antibiotic-free and growth hormone-free
Virtually lactose-free
Non-GMO
Clean Protein is also rigorously tested for mold, unhealthy bacteria, and heavy metals to ensure you're getting the cleanest protein possible.
Each serving contains 20 grams of high-quality protein from cows that graze on healthy pastures. The result is a nutrient-dense, protein-rich whey with virtually zero lactose, carbohydrates, or milk fat.
Indulge in rich chocolate or smooth vanilla—flavored with organic natural flavors, Himalayan pink salt, and stevia. Or, opt for unflavored, for you purists out there. Clean Protein has absolutely no artificial sweeteners and 80 calories per serving.
20g of protein

Zero added sugar

Grass-fed
Grass-Fed Whey You'll Love to Drink
Ingredients
Smooth Vanilla
Grass-fed bovine whey protein isolate, organic natural vanilla flavor, Himalayan pink salt, stevia leaf extract, sunflower lecithin
Rich Chocolate
Grass-fed bovine whey protein isolate, organic cocoa, organic natural chocolate flavor, Himalayan pink salt, stevia leaf extract, sunflower lecithin
Purely Unflavored
Grass-fed bovine whey protein isolate, sunflower lecithin
Questions? We have answers.
I'm lactose intolerant. Can I use Kion Clean Protein?
Whey protein isolate has virtually zero lactose, so those with lactose intolerance will likely tolerate it well. Avoid whey protein of any kind if you have a dairy allergy. If you're unsure, always check with your doctor first.
What's the difference between Kion Clean Protein and Kion Aminos? Can I take both?
Kion Clean Protein contains 20 grams of protein per serving, while Kion Aminos does not technically contain "protein" (it contains amino acids, which are the building blocks of protein). You can absolutely take both the Protein and Aminos, as their benefits will complement each other. In fact, one study showed that EAAs plus Whey Protein promoted greater whole-body net protein balance than Whey plus another meal. For the best muscle & recovery benefits, take Aminos before a workout, and Kion Clean Protein + Kion Aminos in a post-workout recovery smoothie/shake.
How should I use Clean Protein?
Getting Clean Protein into your diet is as easy as can be. Simply, mix one (1) level scoop of Clean Protein in water, smoothies, or your beverage of choice and enjoy the delicious, velvety flavor. Clean Protein anytime of day but if you're interested in promoting muscle protein synthesis and improving recovery you can consume Clean Protein 30 minutes after exercise. We recommend taking only one serving per day.
Is Clean Protein Gluten-Free?
Yes, Clean Protein is free of gluten.
Should I Take Clean Protein Daily?
Yes, you can take Clean Protein as needed or as a daily protein boost. For best results, take one level scoop of Clean Protein once per day with water, a smoothie, or beverage of choice.
Should I Take Clean Protein Before, During, Or After Workouts?
You can take Clean Protein at any time. Although, it's best as a post-work recovery drink and can be taken 30 minutes after a workout.