Dark Roast Coffee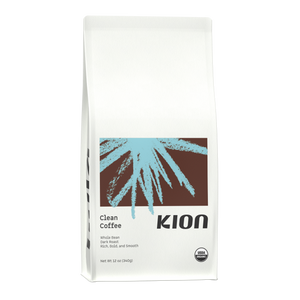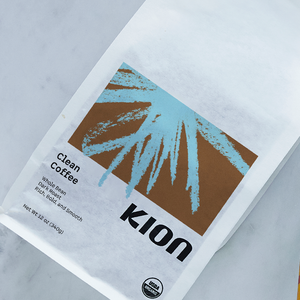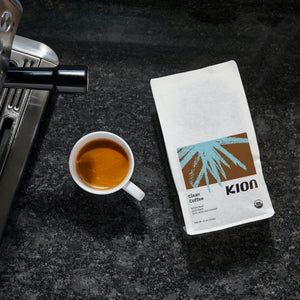 Dark Roast Coffee
Fuel your day with the bold flavor of Kion Dark Roast. Notes of caramelized sugar, dark chocolate, and toasted hazelnuts deliver a complex, smooth flavor.
Certified organic

Tested for toxins

Ethically sourced
Dark Roast, Bold Energy
Say hello to our boldest coffee yet.
If you've ever felt dark roast coffee was too bitter, dark, or just not for you, Kion Dark Roast will change the way you think about dark roast coffees forever.
Kion Dark Roast delivers a smooth, bold flavor—without any of the bitterness. You'll enjoy notes of caramelized sugar, dark chocolate, and toasted hazelnuts.
Each batch of Kion Dark Roast is sourced from 100% organic Arabica beans that are grown and harvested on sustainable, fair-trade coffee cooperatives. We regularly test our coffee for things you'd rather not drink like mold, mycotoxins, and pesticides.
Then, we carefully package the beans in nitrogen-flushed bags so your coffee arrives to your doorstep as fresh and delicious as the day it was roasted.
Finally, a smooth, incredibly delicious dark roast for bold flavor and bold energy.
100% Certified Organic, Specialty Grade Coffee

Tested for Mold, Mycotoxins, and Pesticides

Notes of Caramelized Sugar & Dark Chocolate
Ingredients
12 Oz. Whole Bean Coffee
Dark roast, certified organic coffee beans
Questions? We have answers.
Is the coffee pre-ground?
Kion Dark Roast Coffee is in a whole bean form, and needs to be ground prior to brewing. But we do have a
Ground Medium Roast
coffee that's just as smooth, rich, and delicious as the whole bean.
How should I brew Kion Coffee?
Because Kion Dark Roast is so rich, flavorful, and smooth, you can use a variety of brewing methods. It's great as good ole' drip, French press, espresso, Aeropress, pour over, and more.
Here's an article
to help you find your perfect brewing method.
How many servings are in each bag?
Each bag of Kion Dark Roast provides 12 oz. of ground coffee. On average, that will make ~70 tablespoons and ~25-35 8oz. cups of brewed coffee, depending on your brewing method.
What's The Roast And Flavor Profile?
The flavor profile of Kion Dark Roast can be described as clean, rich, complex and full-bodied. It has notes of caramelized sugar, dark chocolate, and roasted nuts.
Will My Coffee Still Be Fresh By The Time It Gets Shipped To Me?
We seal all Kion Coffee with a nitrogen flush 24-48 hours after roasting. Due to our quality packaging and rush delivery, your coffee will arrive as fresh as the day it was roasted.
Where Are The Green Coffee Beans Sourced From?
Kion coffee comes from a handful of small producers in Honduras. We have a great relationship with the farmers and co-ops, and are confident they meet all of our selection criteria for the highest quality green coffee beans.
Where are the beans roasted?
Our coffee is roasted in the beautiful foothills of Boulder, CO.
Do You Have A Decaf Coffee?
Yes,
Kion Decaf
is the same medium roast, organic coffee—decaffeinated using a chemical-free Mountain Water Process.